Parking
The Crowne Plaza Hotel has a very large parking lot that is sufficient for everyone. There will be an area designated for Cobra parking ONLY, as well as a large area of the parking lot set aside for parking of the pickups and trailers used by those individuals that trailer their Cobras to the show.
Parking of pickups and trailers in the parking lot of the Crown Plaza Hotel is for LCS attendees that are registered guests of the Crowne Plaza Hotel only. If you are staying at another hotel, please park your pickup and trailer there.
During the evening hours we will have a security service that will be patrolling the parking lot. However, neither the Crowne Plaza, the Ohio Cobra Club or the London Cobra Show will assume any liability for any loss or damages that may occur.
---
Map and Directions to Speedway Truck Stop
There are several routes one may take from the Crowne Plaza Hotel to the Speedway Truck Stop on Saturday morning. However, the route shown below is the suggested route, as it more scenic and you will encounter far less traffic.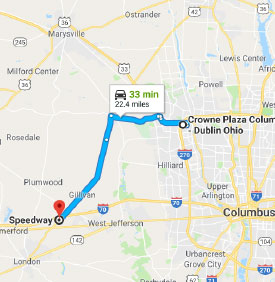 Directions:
From hotel parking lot, go East on Metro Place North and turn left (North) onto Frantz Road.
Take Frantz Road approximately 2 blocks and turn left (West) onto Ohio Route 161/U.S. Route 33.
Follow Ohio Route 161/U.S. Route 33 and exit at Ohio Route 161/U.S Route 33 at the Ohio Route 161/Post Road exit.
Turn left (West) and follow Ohio Route 161 into Plain City, OH.
In Plain City, turn left (South) onto U.S Route 42/Jefferson Avenue.
Follow U. S. Route 42 until reaching the Speedway Truck Stop, which is just a short distance after you go over I-70.
Estimated travel time is about 33 minutes.