Events and Cruises
Saturday's Ed Combs Commemorative Parade of Cobras into London, Cobra's on display along Main Street, vendor exhibits, and the Cystic Fibrosis charity rides are considered, by many, to be the most exciting event of the London Cobra Show. However, there are also self-guided and guided cruises scheduled for both Thursday and Friday, the Cookie Contest and Grand Gala dinner on Saturday evening, all as described below:
---
SELF GUIDED CRUISES
Thursday, June 20 and Friday, June 21, 2024
If you are looking for something to do Thursday or do not wish to go on one of Fridays guided cruises, you will find maps and directions for several self-guided cruises in the LCS registration room of the Marriott Hotel. These are cruises that you may take on your own or invite other Cobra owners to cruise with you.
---
FORMACARS OPEN HOUSE
Thursday, June 20, 2024
Self-Guided Cruise
FORMACARS, a local firm known as a leading builder of iconic turn-key replicas and replica components, invites show attendees to stop by their Open House from 2:00 pm until 6:00 pm. Door prizes, as well as brats, beer, soda, and munchies will be available.
Phone: (614) 279-9492
Website: https://www.formacars.com/
Distance: Approximately 16 miles round trip
Directions:

Take I-270 south about 4.8 miles and exit at Roberts Road - exit #10
Turn left onto Roberts Road and almost immediately after crossing over I-270, turn right onto Wilson Road
Follow Wilson Road about 2.4 miles, turning right onto Twin Creeks Drive, and follow Twin Creeks Drive until it dead ends at Business Park Drive
Turn left on Business Park Drive and FORMACARS will be on your right at 3777 Business Park Drive, Columbus, OH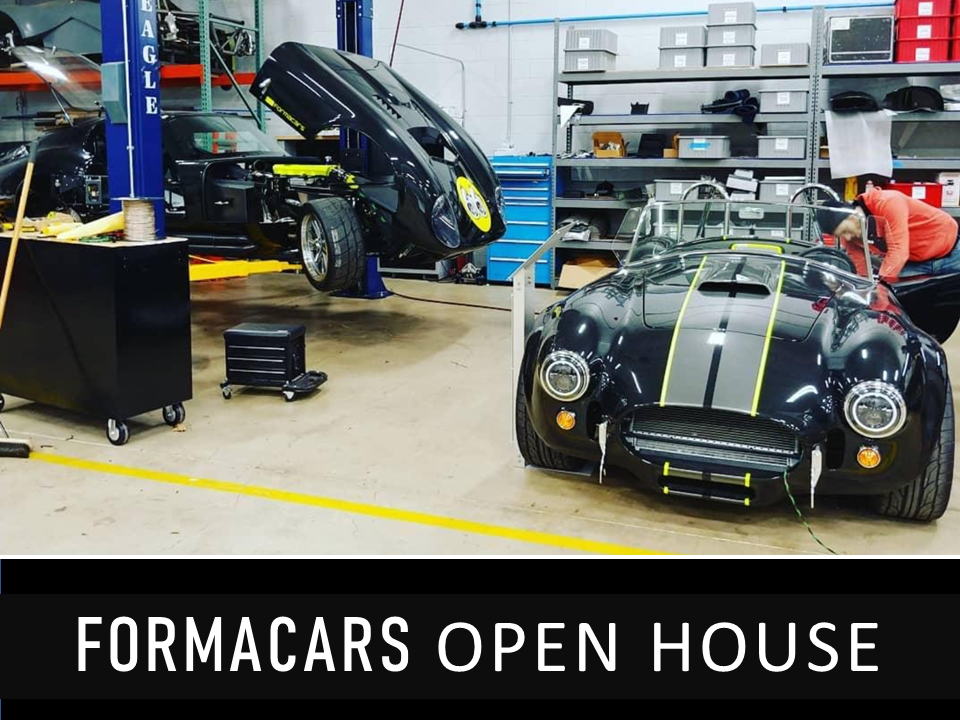 ---
DER DUTCHMAN CRUISE-IN
Thursday, June 20, 2024
Guided Cruise
Join your Cobra friends for fun, door prizes, viewing of local hot rods and cars while listening to oldies music at the Der Dutchman Restaurant and Bakery Cruise-In in Plain City, OH. There will be food, such as hot sandwiches and homemade ice cream, available for purchase, or you may go inside the restaurant and order from the menu.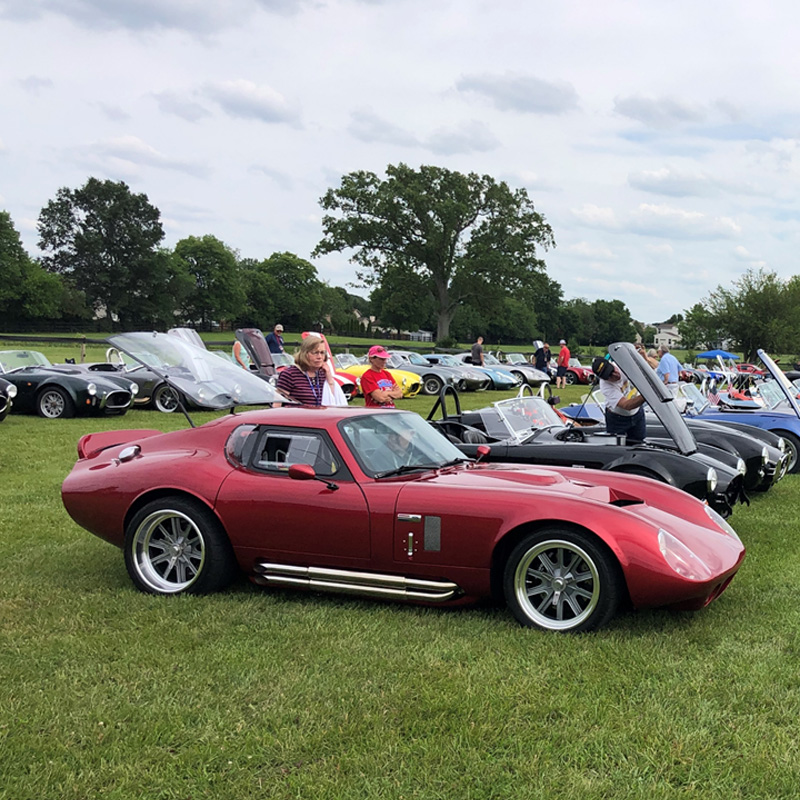 ---
NICK ZEYEN VINTAGE RACING AT MID-OHIO SPORTS CAR COURSE MEMORIAL CRUISE
Friday, June 21, 2024
Guided Cruise - Extra Charge Event
Vintage racing at the Mid-Ohio Vintage Grand Prix always delivers exciting vintage racing competition for spectators to watch. The racing at Mid-Ohio's Sports Car Course with it's long straights, fast-sweepers and technical sequences, as well as it's challenging 15-turn track configuration, makes it a favorite with both spectators and competitors.
The race cars are the stars at vintage racing events. From 200 MPH Indy and Formula 1 cars to classic British, German, and American sportscars, vintage racing provides the spectators with a rolling history of motorsports. This event will feature a large grid of vintage and historic race cars on the track, as well as several more off-track in the paddock area.
For spectators, the paddock area will be open at no cost beyond track admission, offering a level of access to the race cars and drivers that is not available in most other forms of motorsports racing.
Phone: (419) 884-4000
Website: www.midohio.com
Distance: Approximately 132 miles round trip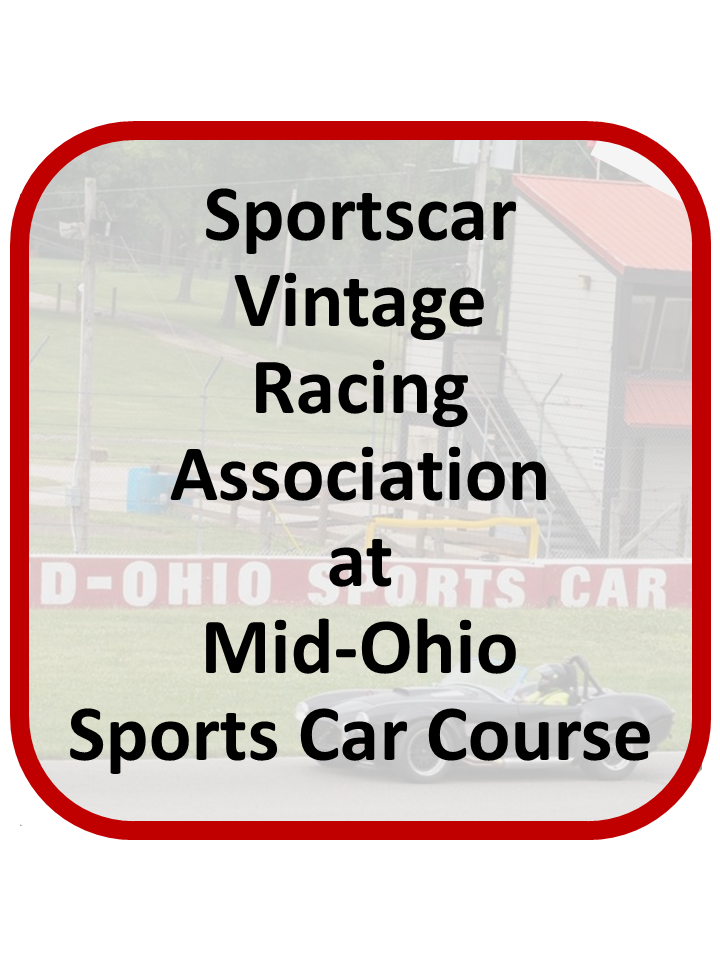 ---
DAN SEMKO MEMORIAL HOCKING HILLS CRUISE
Friday, June 21, 2024
Guided Cruise
Join a group of your Cobra friends as you cruise the roadways through the Allegheny foothills in southeast Ohio. You will be cruising through an area commonly known as the Hocking Hills Region, which is an area of winding roads as well as caves, cliffs and crevasses.
Driving these winding roads in your Cobra, as you take in all the area's natural beauty, provides you with a spectacular cruise along what many consider to be Ohio's best scenic drive. The Hocking Hills roadways aren't just a treasure known to the locals and visitors from the region, they're world-renowned and many consider them to be Ohio's cousin to the "Tail of the Dragon".
Besides the drive itself, a highlight of the Hocking Hills is the cavernous Ash Cave, which forms a huge open recess in the rock that can be walked in and around.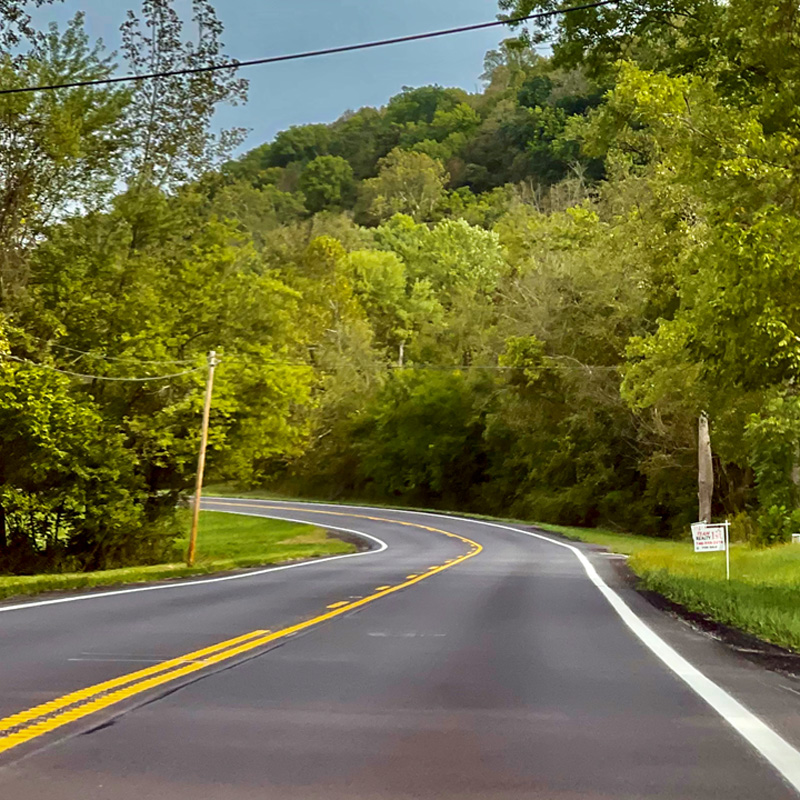 ---
FRANK FORESTIERE MEMORIAL AMISH COUNTRY CRUISE
Friday, June 21, 2024
Guided Cruise
Visit a place in America where the lifestyle is of a people who defy modern conveniences while enjoying the simple pleasures of farm life and country living. You may see the Amish in their horse drawn carriages on the roads.
Amish County is a different part of America where the Amish live according to their Bible beliefs, which means little technology and lots of faith. For many of the Amish people, Pennsylvania Dutch is their first language, rather than English.
This cruise boasts views of natural vistas along winding curves and over rolling hills. In addition, you will be able to enjoy a lunch of Amish Country cooking.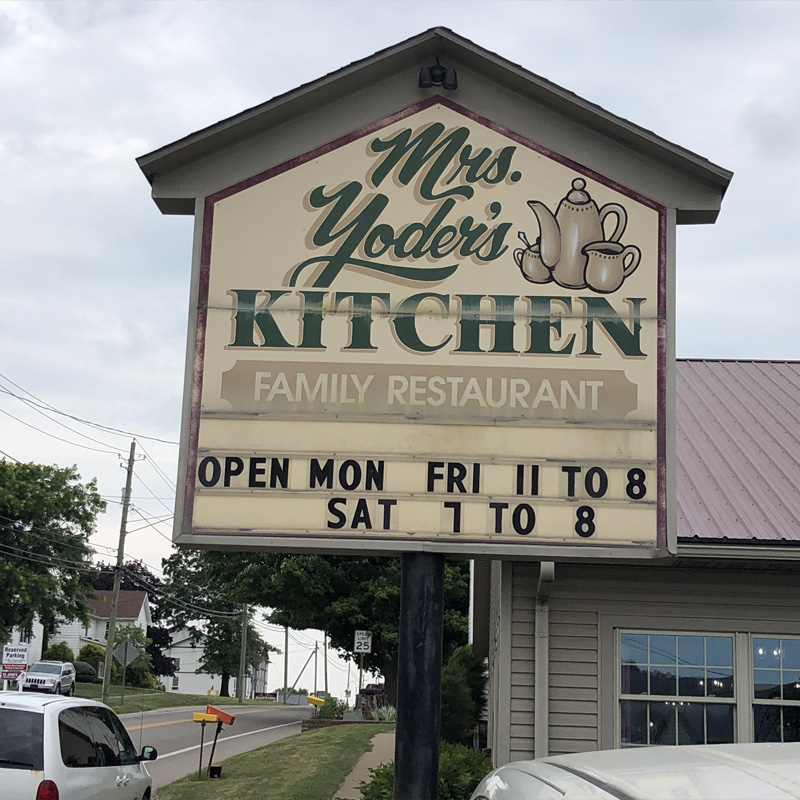 ---
FLYIN' FREDDIE MEMORIAL CRUISE NATIONAL MUSEUM OF THE UNITED STATES AIR FORCE
Friday, June 21, 2024
Guided Cruise
Visit the official museum of the United States Air Force, the world's largest military aviation museum. The museum boast more than 360 aerospace vehicles and missiles on display, including many rare and one-of-a-kind, along with thousands of historical items and powerful exhibits that bring history to life and connect the Wright brothers' legacy with today's stealth and precision technology.
In the museum you will be able to see the restored Boeing B-17F Memphis Belle which has been placed on permanent public display in the World War II Gallery. The Memphis Belle and its crew became iconic symbols of the heavy bomber crews and support personnel who helped defeat Nazi Germany and was the first of the heavy bombers to complete 25 combat missions. Also on display is Bockscar, the Boeing B-29 Superfortress that dropped the Fat Man atomic bomb on Nagasaki during the last days of World War II. Additionally there are many older aircraft and well as more modern ones such as the B-2 Spirit stealth bomber and the F-117 Nighthawk stealth ground attack aircraft and others. You will also see the aircraft dubbed the Hanoi Taxi, which at the end of the Vietnam War, brought American POWs back home.
You can also board a space shuttle, four different presidential aircraft, including SAM 26000, better known as Air Force One. This is the plane that carried President John F. Kennedy's body back to Washington, D.C., after he was assassinated in 1963, Lyndon B. Johnson was sworn in as president on this plane and Richard Nixon flew on this plane on his first presidential trip to China. You may also step inside cargo planes, and much more.
FREE admission and parking.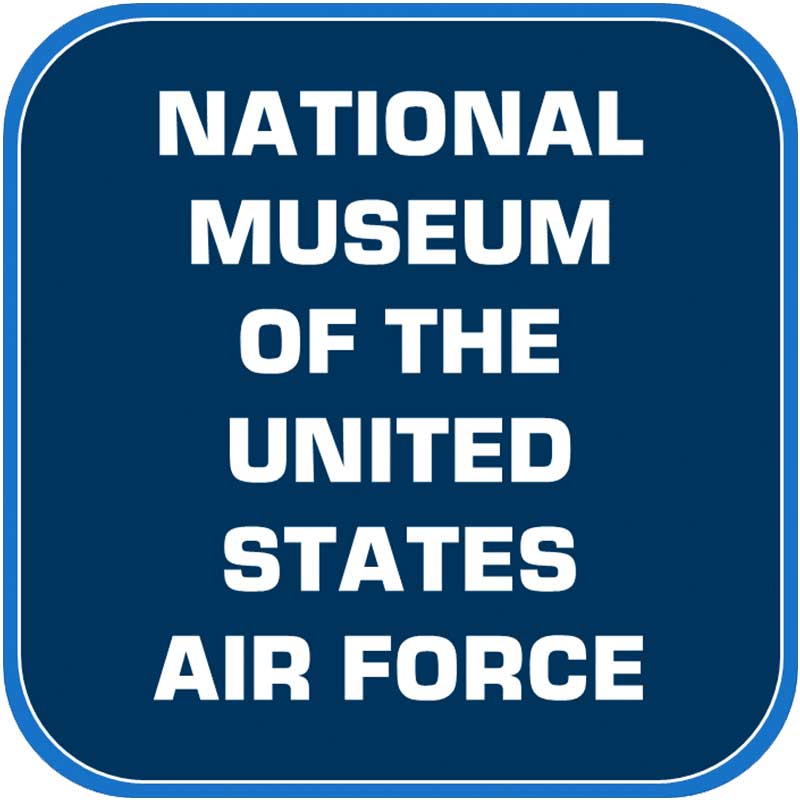 ---
WADE CHAMBERLAIN MEMORIAL ELECTRIC KARTING
Friday, June 21, 2024
Guided Cruise - Extra Charge Event
Race the newest, high performance European electric karts in Ohio at Buckeye Raceway. When driving these electric karts on the challenging one-quarter mile road course, you will experience a rush like never before. Combine that with being only a couple of inches off the track surface, and you will enjoy competing in a race that will get your heart pumping FAST!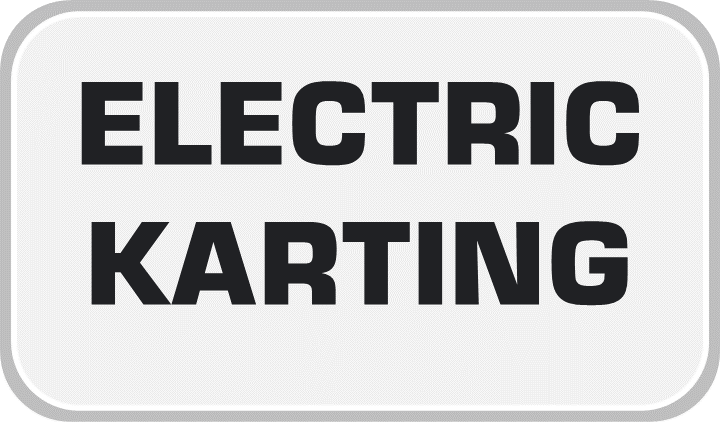 ---
PARKING LOT PARTY
Friday, June 21, 2024
4:00 pm until 8:00 pm
Enjoy spending the evening partying with your Cobra friends, in the Marriott's parking lot, while enjoying dinner from some of the area's finest food trucks.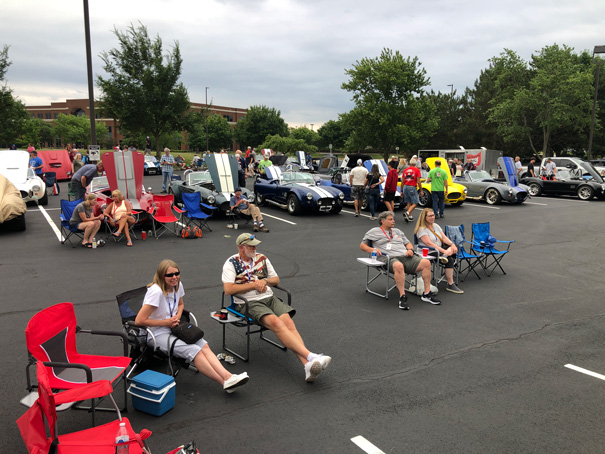 ---
ED COMBS COMMEMORATIVE PARADE, CRUISE-IN, VENDOR EXHIBITS, CHARITY RIDES and Sweepstakes
Saturday, June 22, 2024
Saturday's events start off with the lineup of the Cobras at the Madison County Engineer's Office near the southwest corner of I-70's exit 79. At 9:00 am the Madison County Sheriff's Department will escort the Cobra parade into London. Once the Cobras have been parked along London's North Main Street and the opening ceremony is completed, drivers will offer charity rides, until 3:00 pm, for a $10.00 donation to the Cystic Fibrosis Foundation.
While the Cobras are parked on Main Street, visitors may view the Cobras, speak with the owners and visit the many vendors displaying their products in Gasoline Alley. On hand will be the major manufacturers of "build-it-yourself" component car kits as well as suppliers of "turn key minus" cars that are complete with paint, interior, wheels, and tires less the drivetrain. Also having their products on display will be engine manufacturers, transmission suppliers, and agents for component car insurance, as well suppliers of Cobra and Shelby memorabilia, T-shirts and a Cobra sweepstakes.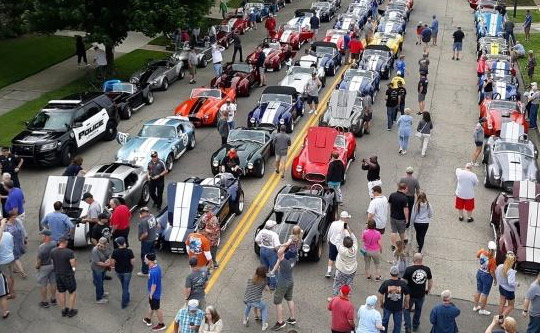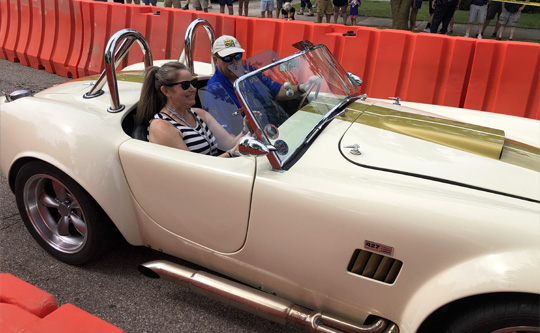 ---
Diane Combs Commemorative Chocolate Chip Cookie Contest
Saturday Evening, June 22, 2024
5:15 pm in the atrium
Does everyone rave about how great your chocolate chip cookies taste. If so, this is your chance to see if your cookies can win the 2024 London Cobra Show's chocolate chip cookie contest. The contest is held each year to honor the four individuals that began what today is the London Cobra Show.
It all started when four Cobra loving friends got together at the home of Ed and Diane Combs shortly before Christmas of 1999 and Diane served them her chocolate chip cookies. Later, Dan Semko stated "Ed's wife made the best chocolate chip cookies in the world." and those words began the tradition of our annual chocolate chip cookie contest.
CONTEST RULES
Must be baked by the individual that enters them.
Enter as many different batches of chocolate chip cookies as you like, as long as each batch is made from a different cookie recipe.
Enter 13 cookies per recipe.
No commercially baked cookies allowed.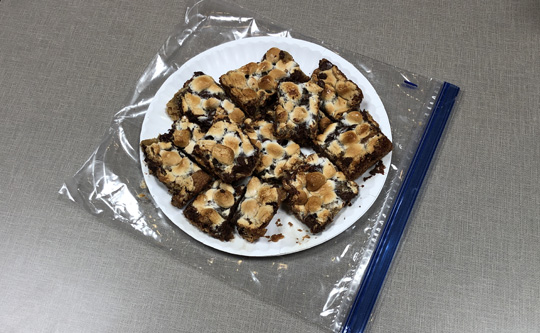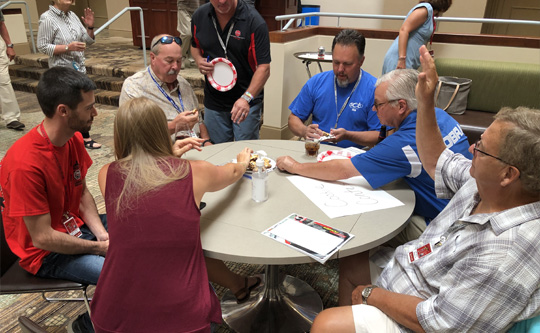 ---
GRAND GALA
Saturday Evening, June 22, 2024
6:00 pm in the ballroom
Grand Gala in the Marriott's ballroom, socializing with friends, three-course dinner consisting of a salad, an entrée, and a dessert, with the evening activities, including speakers, donation to Cystic Fibrosis Foundation, drawing of the winning sweepstakes entry and concluding with the phone call to the lucky winner of the 2024 LCS sweepstakes Cobra Roadster.